Currently browsing the "
Taylor Schilling

" tag.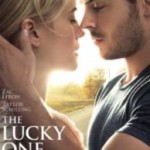 At last check, The Lucky One had a rather unlucky 21% rating on Rotten Tomatoes. I think that's a little harsh. Sure, the movie is pure, unadulterated chickflick-romantic-drama-sap with a capital 'S'. But if you made it through – or even sorta liked – all the other Nicholas Sparks books-turned-into-movies (The Notebook, Dear John, Message in a Bottle, The Last Song, Nights in Rodanthe…), then this one is what it is. More of the same (though far short of The Notebook).
In fact, if you saw Dear John, you may actually think you're watching a remake of the same movie, only this time it's starring Zac Efron (instead of Channing Tatum) as the war-scarred soldier (er, Marine) and Taylor Schilling (instead of Amanda Seyfried) as the blonde chick he falls for. And instead of a letter, there's a photograph.