Currently browsing the "
tennis

" tag.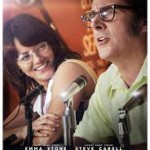 Battle of the Sexes is okay, but far from the grand slam I was rooting for. I love the story, especially because it's true: tennis great Billie Jean King agrees to play ex-champ and self-professed male chauvinist pig Bobby Riggs in a high-profile televised event and kicks his butt, scoring a huge victory for the women's rights movement in the 1970s. That's not a spoiler. It's a well-known fact in sports history. Unfortunately, without the dramatic climax that typically drives a sports drama, Battle of the Sexes is forced to look for bonus points off the court. They include: an exploration of Billie Jean's sexual awakening as a lesbian and the strain that puts on her marriage; Bobby's marital woes, childish antics and addiction to gambling; and, my favorite part of the film, Billie Jean's willingness to take a stand for equal rights and social justice by, in part, organizing other players to break from the establishment and form the Women's Tennis Association.
The poster and the trailer for this documentary promise to reveal "the truth behind the legends". That's a bit of a stretch, but the film does offer an interesting, if uneven, glimpse into the Williams sisters' rise from the gritty streets of Compton, California to the Center Courts of the championship tennis circuit. I still can't tell them apart. But I now know that Venus is the older one – by 15 months. And together, they are one fierce, super-talented, competitive, intimidating and inspiring pair.