Currently browsing the "
The Forgiveness of Blood

" tag.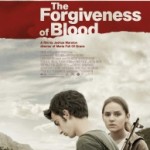 Albania is no cinematic hotspot, though as The Forgiveness of Blood shows, they have some interesting stories to tell. It is fascinating to see these corners of the earth that have been ignored and catch a glimpse inside their culture. In this case, it is a strange mix of the modern and the ancient — cell phones and horse drawn carriages, modern policemen and tribal codes of conduct. The plot here revolves around a murderer's family and the local society's acceptance that all of them pay for his crime.