Currently browsing the "
Tika Sumpter

" tag.
Ride Along is a typical, formulaic, middle-of-the-road January offering. Not exactly a must see, but harmless entertainment. A sort of Beverly Hills Cop light. In Atlanta. Kevin Hart plays Ben, a fast-talking high-school security guard and video-game junkie with aspirations to join the police academy. But his potential future brother-in-law (Ice Cube), a hot-tempered Atlanta detective, doesn't think Ben has what it takes to be a cop, or to marry his sister Angela (Tika Sumpter). So he takes Ben on a ride-along that's essentially been 'fixed' to include only the most annoying and obnoxious runs. Of course, the plan goes awry and comedy and 'drama' ensue.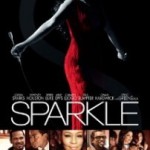 Sparkle falls far short of the total package that is Dreamgirls. But the music is still infectious, fun, and occasionally even powerful enough to make you forgive and forget the gaping holes in story and character development. In other words, keep your expectations in check. And if you're on the fence, wait for the rental.
Former American Idol winner Jordin Sparks plays the title character, Sparkle, an aspiring singer-songwriter who has the potential to be a star, if she can overcome a whole lot of family drama.