Currently browsing the "
Tom Welling

" tag.
What can I say? It's a Nicholas Sparks movie! The Choice is yours to make. As I've written many, many times in the past few years, if you've seen/liked any or all of the other romantic dramas adapted from Sparks' sappy best-sellers, then you'll probably like this one too. It's not the best (The Notebook kind of set the bar) and it's not the worst (I lean toward Safe Haven for that honor). But it does fill a gap in the box office for the contemporary romdram.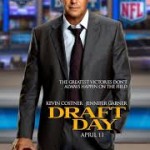 Draft Day is perfectly likable, but it wouldn't really make the cut for anyone's fantasy team of sports movies. It's superficial entertainment geared toward the ESPN Sports Center crowd, with a bit of chick-flick appeal — sort of a rookie version of Jerry McGwire meets Moneyball. Kevin Costner plays Sonny Weaver, the general manager of football's Cleveland Browns who is tasked with 'making a splash' on Draft Day if he expects to keep his job. It's a dramatic day that can have a life-changing impact on the lives of front-office personnel, coaches, players and NFL hopefuls across the country. Weaver has the opportunity to rebuild his team when he trades for the number-one draft pick. But his decisions come with consequences, personal and professional.