Currently browsing the "
Tony Hale

" tag.
Nine Days is quite the contemplative film. It dabbles in some high-concept existentialism and evokes themes explored in both 1998's observational psychological drama The Truman Show and this year's Oscar-winning animated movie Soul. Chew on that for a while. Then go check it out.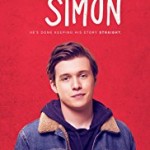 There's plenty to love about Love, Simon. It's a charming romantic dramedy about a cool high school senior who has an awesome family, a great circle of friends, and one big secret: he's gay. This isn't some small indie drama that weighs heavy on the soul. It's a sweet, lighthearted, relatable coming-of-age and coming-out story that plays a lot like a typical John Hughes teen ensemble movie updated for the times, where snapchat, texting and online forums are a primary means of communication. It's backed by a major studio (20th Century Fox) so it actually has a fighting chance to reach a wide, mainstream audience – as it should.