Currently browsing the "
Top Ten Lists

" tag.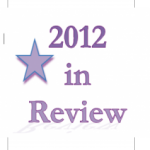 The good thing about being a procrastinator is that your "year-end list" won't get buried in the list of "year-end lists". So with Armstrong-like apologies for the delay, here it is. Click on the links for the full reviews:
MY FAVORITE MOVIES OF 2012*
Argo – Great story. Great characters. Great pacing. And despite what the Academy might say, great direction (from Ben Affleck). Argo is everything a good movie should be. My #1 pick. Everything else on the list ties for second. See them all if/when the mood strikes.
I've been looking back over all the films I saw during this past year and while I feel like it was a pretty good year for movies, for me it lacked that "destined to become a classic" film, which is not to say I don't have some favorites. I will admit, I missed a lot of films by virtue of living in a small town, and I have heard from many (including my 4-year-old nephew) that Toy Story 3 was awesome. I'm looking forward to seeing many of what will no doubt be the contenders for the best in foreign film and documentary when they get here or to Netflix.