Currently browsing the "
Treat Williams

" tag.
12 Mighty Orphans is one of those inspiring underdog sports movies inspired by real events subject to Hollywood tinkering to condense time, amalgamate characters, and boost tension – as with the recent Blue Miracle on Netflix. That one's about a group of orphans in Mexico and their devoted guardian who entered and won a prestigious fishing competition. This one's about a group of scrappy orphans in wartime and depression-era Texas who – with the help of a devoted coach – defy the odds to compete with the big boys in High School football. Think "Friday Night Lights" – with orphans- in the 1930s.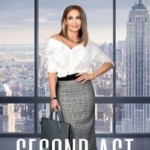 Second Act is a predictable, formulaic, contrived, fine but forgettable dramedy that pales in comparison to J-Lo gems like Maid in Manhattan and The Wedding Planner or even The Back-up Plan. If you go into Second Act expecting a fun, endearing 'romantic comedy' featuring Jennifer Lopez and Milo "Jack from This Is Us" Ventimiglia, you may be doubly disappointed. The romance is secondary to a larger story about life choices and female empowerment. That's all well and good, but it puts poor Milo to waste.