Currently browsing the "
tv news

" tag.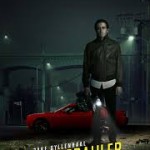 Movies like Nightcrawler pose a real challenge for me as a frequent film 'opinionator' because I simply didn't like it nearly as much as I'm supposed to, especially considering my 'day job' in broadcast news. I guess I wasn't in the mood for creepy and disturbing. And that's exactly what Nightcrawler is – a crime thriller that left me feeling more distressed than entertained. I'm sure that's what the filmmakers were going for. But who needs to PAY for that?
Yes, the performances are excellent. Jake Gyllenhaal got all gaunt and wild-eyed to play Lou Bloom, a smart but psychotic petty thief who stumbles upon a new career as a nightcrawler in Los Angeles – filming and selling grisly accident and crime scene footage to the highest bidder(s). And Rene Russo is chillingly good as Nina, an ethically-challenged news director determined to do whatever it takes to get her struggling TV station out of the ratings cellar.