Currently browsing the "
Tye Sheridan

" tag.
Set in the 50s, The Mountain is the story of Andy (Tye Sheridan, Ready Player One), a directionless young man. Early in the film his father dies and he meets Dr. Wallace Fiennes (Jeff Goldblum) who hires him to accompany him on the road as his photographer. The doctor is a lobotomist and they spend the rest of the film bouncing from mental hospital to mental hospital leaving pliant patients in their wake. But when the good doctor begins to find his services are going out of fashion as less drastic new procedures replace his, he spins a bit out of control, drinking and sleeping with random women, with Andy as his silent witness. And it seems to be building to something. But that something never really comes.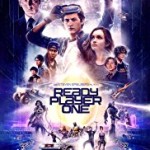 Ready Player One is a futuristic homage to the past, circa 1980s, resembling somewhat of a cross between Avatar and Divergent with the added twist of being directed by the ever-popular and prolific Steven Spielberg (The Post). If all that appeals, then go to the top of the leaderboard and ready yourself for an appealing (though far from classic) adventure that explores the pros and cons of living in the real world with all its flaws versus disappearing into a virtual reality game that promises a real pot of gold at the end of the virtual rainbow. If you're up on your pop culture references (it helps to have seen The Shining at least once), pine for those trips to Blockbuster for the latest on VHS, or still have an Atari in the storage room, then Ready Player One is worth seeing on the big screen. Plus, it's got a pretty awesome soundtrack.