Currently browsing the "
Udo Kier

" tag.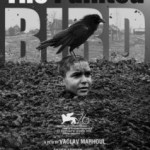 Based on Jerzy Kosiński's novel, The Painted Bird is a brutal tale of a young nameless boy's fight to survive on his own during World War II in the wilds of Eastern Europe. He's beaten and abused wherever he turns, and all he wants to do is find home, though he doesn't really know where that is. And as he makes his way towards that imagined home, he grows more and more hardened and more like the people he meets, scared and mistrustful of the world at large. Though it takes place during the war, the conflict is distant even if the effects are all around The Boy. While it's beautifully shot in black and white, it's also 169 minutes long and essentially a litany of horrors. It's not a film for the masses.
Somewhere in the middle of nowhere in Brazil is a village called Bacurau. It's cut off from the world. They have to truck in water and supplies. But the people live their everyday lives pretty normally. Then strange things start to happen. The town disappears from maps. Their cell signal is gone. Their water supply truck arrives with bullet holes in it. And then a couple on motorcycles appear. Turns out they're part of a gang of blood-thirsty tourists who aim to use the town for target practice. They chose the wrong town.