Currently browsing the "
Ursula Von Rydingsvard'

" tag.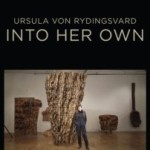 Ursula Von Rydingsvard's name did not ring a bell when I first heard of this documentary. But after watching it, I realize I've actually seen and loved her work in many of the important museums around the world. Ursula von Rydingsvard: Into Her Own makes the case that she should be as well known as many of the other female sculptors of the modern age, like Louise Bourgeois or Louise Nevelson. In this short documentary (it's just 57 minutes) director Daniel Traub deftly mixes the story of her personal life with the making of her amazing art. She's one of the few women who make monumental sculptures, and just seeing how it's done is worth the cost of admission.