Currently browsing the "
Vicky Krieps

" tag.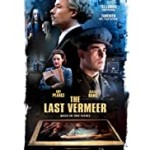 The Last Vermeer is part arty and part mainstream, with familiar elements of both a post-WWII period drama and a courtroom drama. I liked it okay, but couldn't help feeling like I'd seen it all before. I'd certainly seen the film's lead actor, Claes Bang, immersed in the art world before – three months ago in The Burnt Orange Heresy, and in 2017's Palme D'Or winner, The Square. Bang always does a bang-up job in these roles, but c'mon, there are many more worlds to explore!
Imagine a special episode of Project Runway co-produced by the BBC and Investigation Discovery, featuring Oscar-winner Daniel Day-Lewis as a meticulous and obsessive designer who takes Tim Gunn's "make it work" mantra to a whole new level. Set it in 1950s London. Throw in a bit of dry British humor, a strong-willed muse and some creepy family dynamics. And you've got Phantom Thread, the eighth movie from director Paul Thomas Anderson, and his second with Day-Lewis (There Will Be Blood). Anderson movies are a bit of an acquired taste that I have yet to… well, acquire. So I'm not all that surprised that Phantom Thread failed to win me over despite its strong performances and killer wardrobe.