Currently browsing the "
Victor Garber

" tag.
I vaguely recall reading "The Catcher in the Rye" in High School. But I must not have been overly impressed with teen-angst icon Holden Caulfield because unlike characters in, say, "To Kill a Mockingbird" or "Lord of the Flies," Holden and his story failed to stick with me into my adult years. Perhaps that's because the 1951 novel (that's sold more than 65 million copies) was never adapted for film! At least now I understand why, thanks to the mildly intriguing biographical drama, Rebel in the Rye, about famously reclusive author J.D. Salinger who steadfastly refused to sell theatrical rights to his most famous work.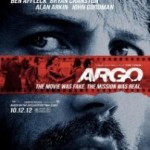 I'm always a bit wary of adding to the hype and expectations of any movie that generates "Oscar buzz" before Halloween. But I really liked Argo. A lot. Enough to tout it for Best Picture and Best Director consideration. It's one of those movies that has everything going for it. Good story. Good characters. Good pacing. And a solid mix of drama, humor and intensity. It's like watching All the President's Men meets Apollo 13.
The plot is preposterous – and that's why it works. The story is based on actual events that were kept classified for nearly two decades. Seriously, you couldn't make this stuff up if you tried – unless perhaps you work in the intelligence community. Kinda makes you wonder what crazy covert ops we'll find out about 20 years from now.