Currently browsing the "
Vincent D'Onofrio

" tag.
A remake of a remake has a lot to live up to. The original was the Japanese film Seven Samurai, shot in 1954, considered one of director Akira Kurosawa's masterpieces starring the legendary Toshiro Mifune. Fast forward six years and Hollywood makes a version substituting cowboys for Samurai, starring Yul Brynner, Steve McQueen, Charles Bronson, and James Coburn. Now we have another one with Denzel Washington, Chris Pratt, Ethan Hawke, Vincent D'Onofrio, Peter Sarsgaard. All three films follow the same essential plot. A village is being preyed upon by outsiders, so they hire Samurai/Cowboys to defend them and mayhem ensues. So is the new one magnificent?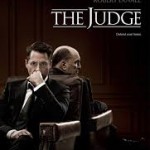 Oh, you want to know more?
Okay, here goes. The Judge is riddled with clichés, runs about a half-hour too long, and doesn't really offer up anything groundbreaking. But I still liked it, mostly because Robert Downey Jr. is so darn watchable – even more so when he's not obscured by an Iron Man suit. The guy is aging – and acting – really well.