Currently browsing the "
Wash Westmoreland

" tag.
Colette is considered to be the greatest French writer of the 20th century, and how she rose from her humble country girl roots to be the toast of Belle Époque Paris society is a truly entertaining and inspirational story. Bringing her to life in this fine biopic is Kiera Knightly in one of her best performances. Colette was an early fighter for women's equal treatment and the film is a beautifully shot #GirlPower story. This not the big biography of Colette though. It's the first chapter of her story, the story of how Sidonie-Gabrielle Colette became Colette, how she became a writer, and how she became an independent woman. There is so much more to her story, but this small part makes for a fun ride.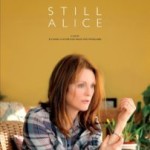 The reason to see Still Alice, and you really should, is Julianne Moore. She just won an Academy Award for her beautiful and heartbreaking performance as Alice Howland, a successful linguistics professor with a loving husband and several grown children who is stunned to find that she is suffering from early-onset Alzheimer's Disease. It is the story of her trying to keep it together even though she knows what is coming, and her family trying its best to take care of her as she disappears before their eyes. Alec Baldwin plays the husband who is as helpless as Alice against the disease, but tries to make her diminishing world as livable has he can. And Kristen Stewart is remarkably competent as her youngest daughter, a would-be actress who turns out to be the one who can help her Mom when she needs it most.