Currently browsing the "
writer

" tag.
Growing up in small town Asheville, North Carolina, we didn't have many famous people we could claim. But the great writer Thomas Wolfe was ours. So when they made a movie about him, we had to see it. Genius isn't just about Wolfe (Jude Law) though. Adapted from "Max Perkins: Editor of Genius" by A. Scott Berg, the film looks at Wolfe's relationship with Perkins (Colin Firth), the editor who had an out-sized role in crafting his masterpieces and was his closest friend. Given the subject matter, the film should have been a lot better.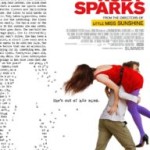 I went into this film knowing absolutely nothing about it, except that Mainstream Chick had seen it and thought maybe as the Arty One, I would get something from it that she did not. Sadly, that is not the case. It is simply one of those interesting concepts that never makes the leap to the screen. The movie stars Paul Dano (There Will Be Blood) as Calvin, a "genius" writer who's had one early mega-success, but now struggles with severe writer's block. So his therapist suggests he write just one page, which he is given permission to do badly. And that night a vivid dream about a kooky girl he meets in the park inspires him to run to his old fashioned typewriter, and the prose just pours out onto the page.