The French make breezy little romantic comedies as easily as they do a good cup of coffee. Perhaps it is because it is a more romantic sensibility.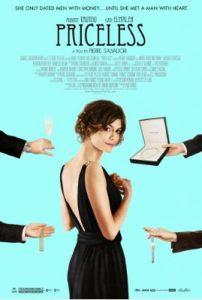 Maybe it is just that the language sounds more romantic and the locations are so quaint. But I can enjoy absurd situations in a French film that I could never accept in an American movie. Case in point is Priceless, starring Audrey Tautou (Amelie, The Da Vinci Code) and Gad Elmaleh as Irène and Jean. Irène is a gold digger staying at a fancy hotel on the Riviera with her rich older boyfriend when she mistakes Jean, a bartender, for a young wealthy mark. He lets her believe he is rich but when her boyfriend catches on and leaves her, the jig is up. She goes looking for her next meal ticket only to be followed by the lovesick Jean. Irène returns his ardor with a vengeance, spending Jean's every last Euro then walking out, leaving him with an enormous hotel bill that he cannot possibly pay.
But just as the hotel is about to call the police and have Jean arrested, a rich older woman appears, takes him under her wing and Jean becomes a kept man. Of course, Irène returns to the hotel and once she sees that Jean is in the same boat as she is, she begins to give him tips on how to make it work to his advantage. They are two caged birds living in gilded adjacent penthouses working to keep their pampered heads above water, but inevitably they fall in love. And have to decide what matters most.
I cannot imagine this film about a gold digging woman and a gigolo being made in the US as a romantic comedy. There are no jokes about the older woman since older French women are considered sexy. There is no sense that Irène is trashy for doing what she is doing. Even Jean does not seem to have much problem falling into his role as boy toy. Audrey Tautou is wonderful as Irène and her ever-changing designer wardrobe is a visual treat. Gad Elmaleh as Jean makes a delightful suitor transforming from the sad bartender to the romantic lover that sweeps the jaded girl off her feet. This is a real chick flick. Perfect for a girls night in with a bottle or two of champagne or champagne cocktails if you can.
French Title Hors De Prix, released in 2006,