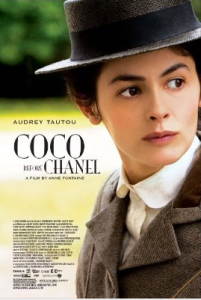 It's good to see Hollywood paying homage to a bevy of strong, independent, talented and spirited women (Fanny Brawne in Bright Star, Amelia Earhart in Amelia, Coco Chanel in Coco Before Chanel). I just wish these movies weren't quite so… boring.
All three felt excessively slow to me. Excellent performances seem wasted on scripts and pacing that will surely fail to spark – or keep – the interest of mainstream audiences. They will likely find an appreciative niche among festival-goers, arty Netflix queuesters, and curious industry insiders in aviation, poetry and fashion. But that's about it.
Coco Before Chanel is a French film with English subtitles (so if you're prone to close your eyes when the action gets slow, prepare to miss out on some dialogue!). It centers on the early, formative years of Gabrielle 'Coco' Chanel as she evolves from a young girl raised in an orphanage to a struggling bar/lounge singer and seamstress to a uniquely fashionable courtesan, hat designer, and icon-in-the-making.
Audrey Tautou (The Da Vinci Code, Amélie) is charming as Chanel, bringing a range of wry wit, intelligence, romantic joy and despair, and a fashionable flare to the role. And her love interests in the film – Benoît Poelvoorde as French playboy Étienne Balsan and Allesandro Nivola as British businessman Arthur 'Boy' Capel make the most of their supportive roles (literally and figuratively speaking). But the movie just plods along at a uniformly lackluster pace. And by the time it ends, you're ready for a nap…. in your less than fashionable pj's.
In Coco Before Chanel, we do get a glimpse of what inspired Chanel to forego the stifling corsets of the early 20th Century in favor of trousers, jackets and the mainstay of every modern woman's wardrobe – the little black dress. And while her liberating sense of style is certainly worthy of celebration – you're probably better served honoring Chanel at the department store rather than the cineplex.
No Comments Yet
You can be the first to comment!
Leave a comment