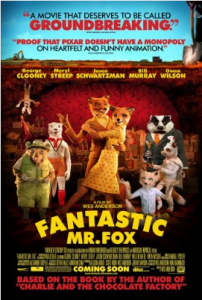 It shouldn't come as any big surprise to Chickflix fans that Fantastic Mr. Fox has made its way onto our friendly little blog. After all, it stars the voice of George Clooney. And sure enough, listening to George Clooney for an hour and a half is almost as entertaining as watching him. On second thought, watching him is still way better. But as an animated flick, Mr. Fox does deliver.
Fantastic Mr. Fox was created using a painstakingly tedious technique known as stop-motion animation. I'm still not quite sure what it is, or how it works, but it's widely credited with providing the movie its uniquely tangible, realistic feel. It's exactly the kind of stylistic treatment you'd expect from a movie directed by Wes Anderson (The Royal Tennenbaums, Rushmore). It also doesn't hurt that all the voices are top-notch, including Clooney as Mr. Fox, Meryl Streep as Mrs. Fox, and Jason Schwartzman as their son, Ash.
The movie is based on a children's book by Roald Dahl and tells the story of sly Mr. Fox and his efforts to feed his family by outwitting (i.e. stealing from) the local farmers – a trio of wealthy bad guys who, in turn, are determined to capture (i.e. kill) Fox. The movie has some themes that could be disturbing to very young viewers, depending on their sensitivity factor. But overall, it works on multiple levels for kids and adults (as good animated movies are prone to do). It offers up a solid mix of humor and heart as well as sweet, and sometimes painful lessons about family, community, and life on the 'wild' side. And did I mention it stars the voice of George Clooney?
Additional Note: While I liked the movie well enough, I'm not sure it was worth the $15.50 I paid for a Sunday afternoon showing in Hollywood. Ouch! Find a reasonable matinee instead. And for more adult fare, wait a few weeks for "Up In the Air". It features George Clooney in a movie that's perfect for a Chick Flick outing or Date Night!
If you and the kids enjoy it, you could buy the book, too.
1 Comments
Leave a comment