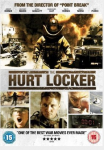 It is all over for this year and there were no big surprises. A woman finally won the Best Director Oscar for a film that no one saw in the theaters. And the biggest grossing movie of all time (so far) was only recognized in the categories it truly deserved — technical excellence. There was one attempt to unfurl a political sign in the background while the winners of best documentary (The Cove) spoke; they were cut short. And there was a Kanye moment where one of the winners of best short was rudely cut off by his partner. The production was pretty clunky, though the hosts Alec Baldwin and Steve Martin were pretty good together. All in all, not a lot of memorable moments.
Best Picture
The Hurt Locker
Director
Kathryn Bigelow, The Hurt Locker
Actress
Sandra Bullock, The Blind Side
Actor
Jeff Bridges, Crazy Heart
Foreign Language Film
El Secreto de Sus Ojos, Argentina
Film Editing
Documentary Feature
The Cove
Visual Effects
Avatar
Original Score
Up, Michael Giacchino
Cinematography
Sound Mixing
Avatar
Sound Editing
The Hurt Locker
Costume
Art Direction
Avatar
Supporting Actress
Mo'Nique, Precious: Based on the Novel 'Push' by Sapphire
Geoffrey Fletcher, Precious: Based on the Novel 'Push' by Sapphire
Makeup
Star Trek
Live Action Short Film
The New Tenants
Documentary (short subject)
Animated Short Film
Logorama
Original Screenplay
Mark Boal, The Hurt Locker
Original Song
The Weary Kind (Theme from Crazy Heart) from Crazy Heart, Ryan Bingham and T-Bone Burnett
Animated Feature Film
Up
Supporting Actor
Christoph Waltz, Inglourious Basterd
How surprised were you? I love that there is a woman with the Best Director. And I am very happy that Avatar didn't sweep. I would have loved to see Up in the Air get more recognition, but all in all I think they did well. Too bad the production of the show was so bad.