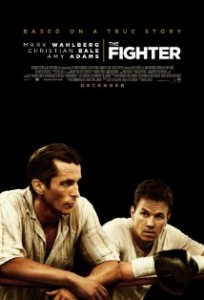 Every once in a while a movie comes along that has a little something for everyone. I think The Fighter is one of those movies. In fact, I think it may be my favorite movie of the year. It's the total package: A really good story (based on a true one), a powerful mix of drama, romance, humor and heart, and stellar performances across the board. You don't have to be a boxing fan to step into the ring for this one. It's a chick flick wrapped in a sports drama.
Mark Wahlberg is a knockout as boxer-on-the-rise "Irish" Micky Ward. But it's Christian Bale who really steals the show as Micky's half-brother and trainer, Dicky Ecklund, a former boxer himself whose addiction to crack cocaine threatens to sink his own life and career – and possibly Micky's too.
The women of The Fighter are powerhouses in their own right. Melissa Leo (from Homicide: Life on the Street) is absolutely amazing as Micky's mother and manager. She is the matriarch of a large Irish brood near Boston that closes ranks around Micky and Dicky when "outsiders" like Micky's girlfriend Charlene (Amy Adams) intrude on their dysfunctional family dynamic.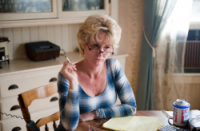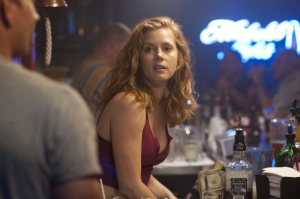 For some reason, I didn't expect to like Adams (Enchanted, Doubt, Junebug) in this movie, but she more than holds her own. I just hope that Adams and Leo don't cancel each other out in the "best supporting actress" category come awards time. They are both very good.
The Fighter is ultimately a gritty feel-good movie that will surely draw comparisons to Rocky (the first one – not two through six!), Cinderella Man, Ali, Raging Bull and whatever other boxing films may come to mind. But that's okay. The genre lends itself to tales of inspiration, redemption, guts and glory. And this movie has all those things. Thankfully it's not too heavy on the blood and gore, and there's enough comic relief to balance the intensity. Sure, The Fighter has some elements of predictability that can't be avoided when you're dealing with a screenplay based on a true story, real-life characters (in every sense of the word), and a well-documented journey toward a championship match. But overall, I am firmly in The Fighter's corner.