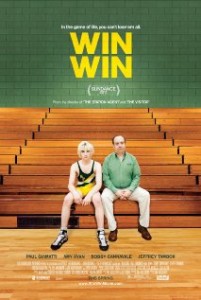 Win Win is a real winner that deserves (but may have to struggle for) mainstream traction. It's like an indie, blue-collar version of The Blind Side that finds its heart and humor in everyday characters and actions.
The film stars Paul Giamatti as Mike Flaherty, a struggling lawyer and high school wrestling coach who can't seem to catch a break. Mike secretly takes on the guardianship of an elderly client with dementia (Burt Young) in the hopes he can just ship the client off to a good nursing home and quietly collect the monthly checks from the court. But that plan backfires when the client's teenage grandson shows up in need of a place to stay. Kyle (played by newcomer Alex Shaffer) is a strange but sensitive kid who quietly endears himself to Mike's family – including Mike's strong but supportive wife (a spectacularly relatable Amy Ryan). It doesn't hurt that Kyle also happens to be a really good wrestler. He joins Mike's team and helps transform them into a more confident and competitive group of guys.
But of course, the story doesn't end there. Kyle's mother emerges from her latest stint in rehab – determined to uproot Kyle once again and secure guardianship of her father, and his money.
Win Win is a funny and poignant film that's loaded with interesting and complex relationships among family and friends. The supporting cast is excellent – including Melanie Lynskey as Kyle's mother (you may know her as crazy Rose from Two and a Half Men. Look who's "winning" now!); Bobby Cannavale as Mike's needy best friend – and the source of much of the film's comic relief; and Jeffrey Tambor, a guy who just emanates funny without really trying.
Win Win strikes a perfect balance of comedy and drama and represents yet another victory for writer/director Tom McCarthy (The Visitor, The Station Agent). It's a win-win for the audience as well. And even though it's rated "R", I think it's a good family film for older kids (14 and up). What've you got to lose?