Bridesmaids really is like The Hangover with chicks. And like The Hangover, this smart adult comedy should appeal to both sexes because, well, it's pretty darn funny – even when it's gross.
The movie is actually far better than the online trailers would suggest. In fact, I think they do it a major disservice. Somebody should go back and recut them!
Kristen Wiig (SNL) co-wrote the movie and stars as Annie, a woman whose current struggles in love and life seem all the more painful when her best friend, Lillian (Maya Rudolph) gets engaged and taps Annie to be her maid of honor. What follows is a two-hour laugh and groan fest (in a good way) as Annie attempts to lead a colorful and disparate group of bridesmaids through the requisite shower, dress fittings, and bachelorette party.
The outstanding ensemble cast includes Rose Byrne as Helen, a bridesmaid who is passively-aggressively determined to wrest control of the festivities from Annie; Ellie Kemper as Becca, a newlywed whose annoying 'happy face' belies a battle within; scene-stealer Melissa McCarthy (Mike and Molly) as the groom's sexually-ambiguous and quirky sister Megan; and Wendi McLendon-Covey as Rita, a disenchanted wife and mother who sees the wedding festivities as a much-needed opportunity to escape her abysmal home-life. These women are like the Sex and the City gal pals – except they're virtual strangers thrown together for the bridal party rituals. (Anyone who's ever been a bridesmaid knows how awkward that can be).
The main sub-plot of the movie revolves around Annie's love life and her encounters with two very different men.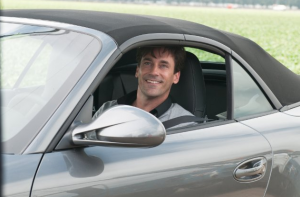 Jon Hamm (Mad Men) is hysterically spot-on as a wealthy, smarmy jerk who's just using Annie for casual sex, and Chris O'Dowd (who I'd never heard of) is absolutely charming as a sweet and sensitive policeman who falls for Annie but can't seem to get through to her.
Bridesmaids is more than just a comedy. It's got heart and humor and a brutal honesty that can be uncomfortably, yet hilariously funny. It has elements of a romantic comedy, but doesn't fall into the traditional and predictable romcom trappings of the recently-released and similarly themed Something Borrowed. It's about what defines friendship, happiness, and survival in a world where the grass is always greener. Who can't relate to that??
Producer Judd Apatow of Superbad, Knocked Up and Get Him to the Greek fame definitely has a knack for balancing raunch and wit. He does it again here. But ultimately, this is Kristen Wiig's movie. And it's a really good one.
1 Trackbacks/Pingbacks
2 Comments
Leave a comment