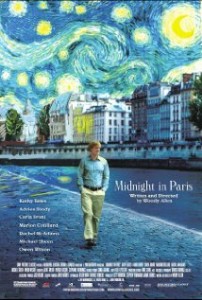 I'm not (book) smart enough to fully appreciate Midnight in Paris, but I would certainly encourage fans of the literary and art world of the 1920s to check it out. The movie presents an interesting, somewhat whimsical Woody Allen-ified twist on the time travel genre.
The movie opens with a long, loooooong jazzy montage of modern-day Paris as the city of lights transitions from morning to night, sunshine to rain. It could almost be the opening to a travel show that's about to highlight all the city has to offer – the architecture! the food! the wine! the outdoor cafes! the romance! Oui, oui. C'est Magnifique.
When the music montage finally draws to a close, we are introduced to an American in Paris- several of them actually. Owen Wilson and Rachel McAdams play Gil and Inez, an engaged couple who've tagged along with her parents on a business trip to the French capital. Gil, a writer (or aspiring writer, depending on how you look at it), is immediately smitten with the city and the role it played in inspiring some of the greatest artists, writers and musicians of the 20th century. Ah, wouldn't it be great to be transported back in time…
And that's exactly what happens. Every night as the clock strikes midnight, Gil hitches a ride into the 1920s, where he mingles with the likes of Ernest Hemingway, Salvador Dali, Cole Porter, F. Scott Fitzgerald, Gertrude Stein, and Pablo Picasso. The more you know about them going in, the more you're going to get out of the film.
Woody Allen knows how to attract good actors, so the performances are all pretty solid and witty. Even Owen Wilson, who tends to be hit or miss for me, is sufficiently endearing as a guy who romanticizes the past but comes to appreciate what the present and future may offer as well.
Midnight in Paris is a decent film with limited appeal for the masses. Ironically, it will likely find its niche with the intellectual and pseudo-intellectual types that the movie often pokes fun at. C'mon, you know who you are.