Posted by Ellen Carl aka Adventurous Chick on June 27, 2011
Cameron Diaz gets an A for an audacious performance in Bad Teacher. But overall, I give the movie a B. It amuses – you'll chuckle throughout – but it doesn't quite reach the level of grade A comedy.
Diaz plays Elizabeth, a junior high teacher who "doesn't give an F." Her idea of a lesson plan is a Netflix queue and a DVD player. When she gets dumped by her sugar daddy fiancé, she has to start the new school year broke and alone. But she locks on to a new target when a wealthy and hot new sub named Scott (Justin Timberlake) shows up. As Elizabeth schemes to win him over, her overzealous and slightly off kilter fellow teacher Amy Squirrel, yes Squirrel, is watching her oh so closely because she just knows Elizabeth is up to no good. Plus, she's competing for Scott's attentions as well. As Elizabeth tries to seduce Scott, the school's sarcastic gym teacher Russell (Jason Segal) is trying to get her to go out with him. But hey, he's just a gym teacher, so she tells him it's never gonna happen.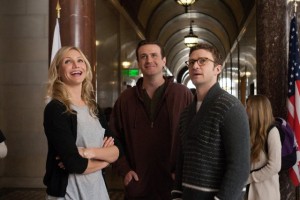 Segal is fun to watch as the gym teacher who is a better match for the foul-mouthed pot-smoking Elizabeth. And Timberlake does a nice comic turn as the kind-of-dopey-but-so-cute-you-overlook-that Scott. It's a raunchy and irreverent movie that definitely earns its R rating for language, drug use and adult themes, although no nudity to speak of. (Even in the "sex" scene between exes Timberlake and Diaz, they are fully clothed.)
This is definitely an adult comedy. Don't take the kids. But if you're looking for a diversion sans kiddies Bad Teacher is a good time. (Although, if you haven't seen Bridesmaids yet that should go to the head of the class and save Bad Teacher for pay-per-view.)
No Comments Yet
You can be the first to comment!
Leave a comment