Posted by Ellen Carl aka Adventurous Chick on July 13, 2011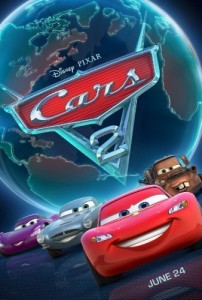 Cars 2 has plenty of action and adventure. What it doesn't have enough of is heart. Unlike the first Cars movie where we got to know all of the residents of Radiator Springs, this one is all about Mater. And while the wisecracking tow truck was great as a supporting character, he just doesn't cut it as a lead car.
This time around Lightning McQueen wraps up the race season and is all set to spend some time relaxing in Radiator Springs with his favorite gal Sally and his best friend Mater. But thanks to Mater he ends up reluctantly agreeing to race in the World Grand Prix, which sends the two of them off on an adventure around the world. On their first stop in Japan, two British spies, Finn McMissile (voiced by Michael Caine) and Holly Shiftwell (voiced by Emily Mortimer) somehow mistake Mater is for an American secret agent and suddenly he is caught up in the world of international espionage.
It seems a gang of lemons – Pacers, Yugos and the like – is involved in a nefarious plot to sabotage a new alternative fuel being used by the cars in the World Grand Prix, including McQueen. Once Mater figures out exactly what is going on – and it takes a while – it's up to him to step up and save his buddy McQueen even though they have had a falling out early in the movie. Of course, he comes through for his friend and of course, there's a little lesson about friendship and standing by your pals no matter what thrown in for good measure. But the whole alternative fuel, international espionage plot is a little convoluted, even for an animated movie and it just doesn't live up to the standard we've come to expect from Pixar.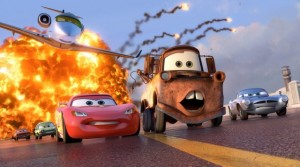 However, none of this really mattered for the eight-year old who accompanied me to the movie. He walked away happy with the latest adventures of McQueen, Mater and the gang, and, really, that's what it's all about. So if you have kids who want to go, take them. (You will at the very least enjoy the short before the movie that features the Toy Story gang.) But it's not one of those animated movies that adults should try to find a kid to take so they have an excuse to see it (which I've done that many times). This one you can wait to watch on DVD when it inevitably comes out just in time to buy for the holidays.
No Comments Yet
You can be the first to comment!
Leave a comment