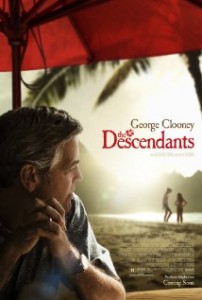 If you're looking for an adult movie that can appeal to the mainstream, adventurous and arty crowd this holiday weekend, then I highly encourage you to seek out The Descendants. It's got George Clooney. Need I say more? Actually, I do need to say more – because this is Clooney at his best. He delivers a powerfully low-key performance as a fairly regular guy named Matt King who is forced to step it up as a father when his wife suffers catastrophic injuries in a boating accident. As she lies comatose in a hospital bed, Matt is left to process her impending death, comfort and support his rebellious and rambunctious daughters, and oversee the difficult sale of a large piece of pristine land that his Hawaiian ancestors left in a family trust (thus the title, The Descendants). On top of that, he learns his wife had been having an affair.
The film, directed by Alexander Payne (Sideways, About Schmidt, Election), is a bittersweet melodrama laced with heartfelt emotion and subtle humor. No guns. No car chases. No explosions. No blaring soundtrack. Just a guy reconnecting with his daughters during a family trip to Kauai that happens to involve tracking down his dying wife's lover.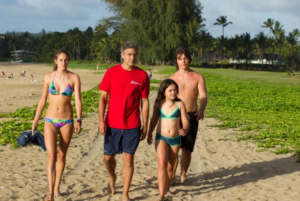 It's an unpredictable journey – and at times, a funny one, thanks mostly to the seemingly inappropriate presence of daughter Alexandra's clueless, tag-along boyfriend Sid (Nick Krause). You'll spend a good deal of time wondering why he hasn't been kicked to the curb, but it all pays off in the end.
The Descendants is a slow but engaging drama with solid performances all around, a healthy dose of heart and humor, and a whole lotta George. Happy Thanksgiving.
1 Comments
Leave a comment