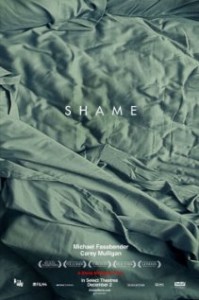 Oh my! I'm not really sure who – if anyone- you can actually see this movie with. Suffice it to say, it's not a date movie. Or a family movie. Or a fun fantasy flick. It's dark and disturbing – and provocative – in a Black Swan sort of way. I didn't particularly like Black Swan, despite the Oscar-worthy performance of Natalie Portman. Same goes for Shame. It's not my cup of tea (at all), but the performances – especially from Michael Fassbender and Carrie Mulligan – are quite superb. So should you see it? Maybe – in the privacy of your own home when it comes out on DVD! But in a theater??? That's a tough call. Here's why:

Shame is rife with nudity, sex and psychological drama intended for mature audiences only. It is, after all, rated NC-17. Fassbender plays Brandon, a 30-something New Yorker who struggles with a compulsive addiction to sex. His tenuous efforts to keep his private life – and his personal demons- separate from his professional persona start to unravel when his troubled sister Sissy (Mulligan) shows up on his doorstep. Her presence stirs memories of a painful past and pushes Brandon – and his addiction- to an even darker level.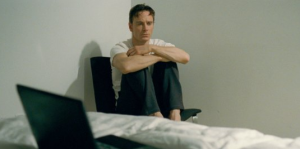 It's hard not to go the way of double-entendres and full-frontal flippery when describing this movie – especially since Fassbender is pretty darn good looking and this role is a far cry from his turn as Magneto in X-Men: First Class (which I happened to like by the way). But in truth, Shame is very raw and depressing, and Brandon's addiction is way more sad than sexy. So I wouldn't want to mislead you into thinking this indie is even remotely mainstream in its appeal. It's just not. And even if Fassbender's performance is potentially Oscar-nomination-worthy, I think the risqué material makes it highly unlikely that the Academy will go all Portman on him. I think the "three-way" at the climax of the movie (oops – shame on me) may have gone a bit over the top. That said, if you liked Black Swan, I suspect you'll like Shame as well. Just pick your movie-mates carefully, or wait until it comes out on DVD or pay-per-view.
1 Trackbacks/Pingbacks
2 Comments
Leave a comment