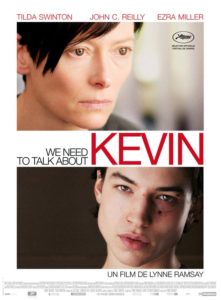 This movie has all kind of things going for it — a well-written script, beautifully paced, interesting visual themes, even great performances all around, but seriously! If you are of childbearing age and thinking of having a kid any time in your life, you might not want to see this movie, that is unless you want to know what it feels like to parent a sociopath.
The Kevin we need to talk about is the demon child born to young Eva and Franklin played by Tilda Swinton and John C. Reilly. From the beginning, he torments his mother and acts like the angel when his dad is around. And so of course, Dad doesn't believe Mom when she speaks ill of her child. Kevin manipulates Eva and revels in her pain, but he's not a horror movie character like Damien in The Omen. Instead, this is a more nuanced character and the story unfolds in flashback. As the film begins Eva is struggling to cope with her post-catastrophe life. Someone has thrown red paint on her car and her house and she is heading out to interview for a menial job at a travel agency. In bits and piece we learn that Kevin killed a bunch of his schoolmates in a Columbine-style massacre, and as much as Eva knew how damaged her son was, she was powerless to do anything about it.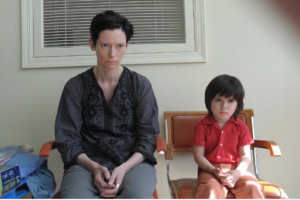 Watching We Need To Talk About Kevin is like watching a train wreck. You know exactly what is coming and yet it is so well done, you cannot look away. Fortunately, the major part of the violence is off screen. Tilda Swinton is amazing as a mother who is trying everything she can to get through to the son whose psycho inner life only she knows. And the two boys who play the son as a young boy, then as a teenager are scary good at portraying a very smart little monster. It is hard to recommend this to most people because the subject matter is so disturbing, but it has stayed with me. It is unlike anything else I've seen. And if you can get past the basic idea of it, it is amazingly good film making.