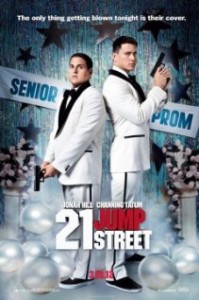 Okay, this one is really quite simple. 21 Jump Street is cheesy, dorky and crude. But it's also kinda funny. So if you're a fan of Harold and Kumar-type humor, then chances are you'll enjoy this campy, satirical reboot of the '80 TV show that put Johnny Depp on the map. If you've never heard of Jump Street – or you can't stand H&K – then skip this one for sure. And if you're thinking of taking the kids on a nostalgic trip down memory lane 'cause the tv show represented mostly good, clean drama (at least in the early years), then be advised: this movie is an action-comedy that more than earns its R rating. In other words- it's definitely not for the pre-teen crowd.

21 Jump Street stars the oft-schlubby (Oscar-nominated turn in Moneyball not withstanding) Jonah Hill and the oft-hunky-romantic-drama lead Channing Tatum (The Vow, Dear John) as two under-achieving cops who are sent back to high school to find out who's supplying and dealing a dangerous new synthetic drug to kids. That's really all you need to know.
No Comments Yet
You can be the first to comment!
Leave a comment