A Separation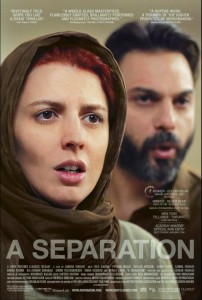 won the 2011 Oscar for Best Foreign Film, marking Iran's first Academy Award ever. It was also nominated in the Best Original Screenplay category, unusual for any foreign film. While the world frets about their nuclear intentions and tension mounts, it is nice to see a fairly non-political depiction of life there. This is a film about relationships and cultures and power and truth, pretty universal themes played out on a very human scale and directed with a masterful hand. It begins with a couple in front of a judge arguing over their divorce. The wife, Simin (Leila Hatami), wants to take her daughter to another country for a better life. The husband, Nader (Peyman Moadi) feels he needs to stay in Tehran to take care of his father who has Alzheimer's. "He doesn't even realize you are his son," Simin pleads. "I know he is my father," Nader replies. And unable to come to a consensus, they are denied their divorce.
Once back in their apartment, as Simin packs to move to her mother's, Nader speaks with a young woman, Razieh (Sareh Bayat) about working in the house while he is at work, taking care of his father. She agrees to the job, but the next day she realizes that she will have to clean the father when he wets himself, and the first inkling of a problem with the situation arises. She calls a religious hotline about whether it is a sin to see a man who is not her husband naked, arguing that the man needs her help. It is clearly more than she thought she would be expected to do and it turns out more that she can do for a number of reasons. And soon a much more serious issue arises, bringing her husband Hojjat into the story and setting up the major conflict in the movie, a law suit between the two couples. Saying more about the plot would ruin this incredibly taut, intelligent, gripping film.


The separations that the title refers to are many; class, religiosity and gender are critical to the story. Whereas Simin and Nader are middle class professionals, Razieh and Hojlat are poor, traditional working-class with strong religious views. And the court case is as much about Hojlat's feelings of rage against the system as anything. But what is really fascinating are the shifting goalposts of truth. It is about the most intelligently written film I have seen in a long time. There are lots of small twists and turns, and you fear that everything could easily turn very bad at any second. The drama is punctuated by scenes in court, though decidedly different from courtroom dramas of the US. Here a judge sits behind a desk in a crowded little office and asks questions, then pronounces his decision. There are no lawyers, and it feels very Kafkaesque.
A Separation is an amazing film on so many levels — amazingly drawn characters, a perfectly constructed script, fabulous acting, a fascinating look at another culture, and so intelligent. It is mostly about the two couples, but there are two daughters who are also incredible. Yes, it takes place in Iran and it is subtitled, but don't let that stop you from seeing it. It won just about every major award this year for best foreign film and it also took every prize at the Berlin Film Festival including best actor/actress for the entire cast. I highly recommend it!