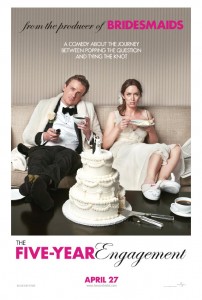 The Five-Year Engagement picks up where most rom-coms leave off — with the proposal. Tom (Jason Segel) pops the question to Violet (Emily Blunt) exactly a year after they meet at a New Year's Eve party. But it doesn't go exactly as planned. Tom plans to surprise her with a ring on the deck of the restaurant where he works. But Violet objects so much to making a stop on their way to a party that Tom pulls over the car and confesses the whole plan. And thus begins their long and winding trip to the altar. But is their story engaging enough to make it worth a trip to the theater?
Jason Segal and Emily Blunt are likeable and fun as the engaged couple and at first it seems like everything is going to go off without a hitch. But what fun would that be? Things get derailed at first when Violet gets an offer to work on her doctorate at the University of Michigan. The problem with that is they live in San Francisco and Tom is an up-and-comer in the city's culinary scene. But Tom decides to put his career on hold and go to Ann Arbor with Violet. She thrives there but he never seems to find his way. Instead, he ends up working at Zingerman's Deli and hanging out with another bored faculty spouse  (well-played by the talented Chris Parnell) who knits ill-fitting sweaters and teaches Tom to hunt.
As the months tick by, the pressure mounts for them to set a date as grandparents start dying and Violet's sister (Alison Brie) ends up taking the expressway to married life after she gets knocked up by Tom's loutish friend (Chris Pratt) at Tom and Violet's engagement party. But as Tom grows unhappier and Violet grows closer to her faculty adviser, the couple seems like they are headed anywhere but marriage. Tom's downward spiral makes for some good laughs and Violet's co-workers at the University are an amusing bunch. But there comes a point when you want to say, "oh just break up already!" The movie could have used some judicious editing to tighten things up a little bit.
So yes it's worth the trip to the theater if you're in the mood for a rom-com or if you're a big Jason Segel and/or Emily Blunt fan. It's got some good laughs and some honest emotional moments. It's definitely chick flick territory. But if you're the impatient type you might find yourself looking at your watch wondering when the hell they're just going to figure it out.