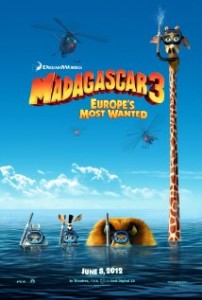 The third (and surely not the last) Madagascar movie picks up where the second one left off – I think. I didn't see the second one. But that's okay; I catch on pretty quick – and you will to – in a movie that caters largely to the 10 and under crowd. Fortunately, there is also enough subtle humor and double entendres to keep the tagalong adults relatively entertained. On that front, Chris Rock steals the show ("Circus – Afro! Circus – Afro!").

M3 features a slew of recognizable voices reprising their roles in the franchise – including Ben Stiller as Alex the Lion, Chris Rock as Marty the Zebra, Jada Pickett Smith as Gloria the Hippo and David Schwimmer as Melman the Giraffe. The menagerie is [still] trying desperately to get back to their beloved Bronx Zoo after a series of adventures and mishaps that have taken them around the world. They end up joining a Russian Circus that's got a shot of winning a contract with an American promoter – if they get can get their act together (so to speak). Meantime, an evil Animal Control Officer named Chantel DuBois (Frances McDormand) is hot on their trail, itching to add a Lion's head (i.e. Alex) to her collection. Animated action-adventure-comedy antics ensue, and in the end, there's a nice little message about friendship, persistence and pride.
Bottom line: there aren't many good family movies out there, so if you've got small kids, this one's worth seeing. The 3D effects do add some extra value, but you can probably live without 'em.
No Comments Yet
You can be the first to comment!
Leave a comment