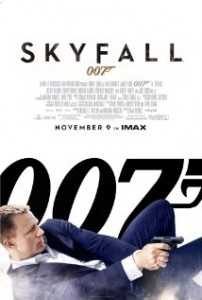 I'm not a huge Bond aficionado. I can probably count on one hand the number of 007 movies that I've actually seen in their entirety. But I can say this: Skyfall is thoroughly entertaining and Daniel Craig wears the suit extremely well. And when he's not wearing the suit… well, even better! Okay, I'm being a tad shallow. Truth is, Skyfall is an action-packed, adrenaline-fueled adventure that embodies everything that our hero, the quintessential British spy James Bond, has to offer: suavity, dry wit, intellect, passion and virtual immortality. I mean, how many bullets can one guy take??

As far as I'm concerned, there's no real "Bond girl" in this particular Bond movie. Unless you count M, Bond's boss at MI6, played by the always impressive Judi Dench. The rest of the female characters are mere blips on the radar, though Bond is given ample opportunity to turn on the charm, take off the shirt, and flirt with romance while flirting with death. I just didn't really care about their chances of survival in Bond's rough and tumble world. Except for M.
The storyline revolves around a deadly threat to MI6 in general, and M in particular. Someone wants M to pay for her past sins (whatever they may be). And it's up to Bond to find out who… and why… before it's too late. Javier Bardem is the bad guy – and he's sooooo good at it. His villain is quirky and crazy, and his cat-and-mouse game with Bond is both intense and comical. Really, who needs a Bond Girl when you've got Javier? Not me.
The movie clocks in at about two-and-a-half hours, almost too long for my tastes. And I didn't care for what I'm told is the "traditional Bond movie practice" of interrupting the action to run lengthy opening credits – even if it is to the hauntingly beautiful strains of Adele. I found it distracting, and a tad boring. But overall, Skyfall (and Daniel Craig) definitely held my interest and attention.
Skyfall is the 23rd adventure in the longest-running movie franchise of all time. You'd think after 50 years that Ian Fleming's 007 may have worn out his welcome. But thanks to a timeless character – and Daniel Craig – Bond is still shaking (and stirring) up the box office. And judging by the final scenes of Skyfall, we certainly haven't seen the last of Bond, James Bond.
No Comments Yet
You can be the first to comment!
Leave a comment