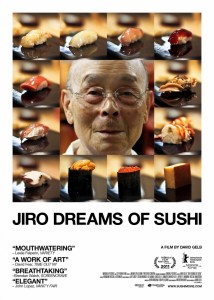 Jiro Dreams of Sushi is an ode to the greatest sushi chef in the world, Jiro Ono. This 85-year old sushi master has been at his craft for 75 years and still loves what he is doing and thinks he can do even better. His restaurant Sukiyabashi Jiro located in a subway in the Ginza district of Tokyo is one of the few sushi restaurants to earn 3 Michelin stars, and serves just 10 people at a time for 30000 Yen a pop (approx. $350). He does not serve appetizers or drinks or anything except sushi. You get what he serves you, with each taste planned to complement the next. One piece at a time, so they are as fresh as can be. I would imagine that people who aren't sushi lovers might not be as enthralled with this documentary as those of us who are. The beautifully shot close-ups of Jiro's little masterpieces of fishy goodness really did make me ache for a decent sushi restaurant, which my town is sorely lacking. And I'm sure that since this film came out, you can't get a seat for many months, but if I could afford the fare, I'd fly over for a meal in a heartbeat.
Jiro Dreams of Sushi is both biography of the artist Jiro and a peek behind the scenes of one of the world's best sushi restaurants, which I found fascinating. The amount of prep work that goes into sushi surprised me. And the trips to the fish markets were both an eye-opening tutorial on tuna buying and a cautionary tale about the way we have over-fished to the point that chefs have had to adjust to the loss of some species. Throughout the documentary we are introduced to an array of characters who all have a hand in making Jiro's restaurant a success; from the fish buyer, to the rice seller, to the apprentices who work for years to grasp how to make the sushi rice correctly. It is as if Jiro were a concert master and sushi is his music.
The other theme that runs through the film is how he has groomed his two sons to continue his tradition when he is gone, though they will have to be twice as good to be considered a success, and at 85 he's not planning to quit any time soon. I'd recommend this film to all sushi lovers out there, and foodies who love the behind the scenes world of restaurants, as well. And plan for a nice meal afterwards — fish of some kind would be best.
If you're wondering what a meal at Jiro's is like, check out this blog post! Sounds sublime.
No Comments Yet
You can be the first to comment!
Leave a comment