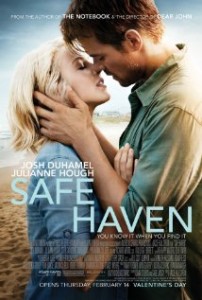 I'm an easy sell when it comes to cinematic sap. So I had my tissues at the ready for the latest Nicholas Sparks novel-turned-romantic-drama. But alas, not a single tear was shed. In fact, I was rather bored. If you want to see sparks fly, you may have to see Die Hard 5 instead – lots of stuff blows up real good in that one. Or Beautiful Creatures – a supernatural romantic drama about a teenage witch (though she prefers the term 'caster') and the mortal guy who catches her eye. Bottom line: I'm not really feelin' the love from, or for, Hollywood this Valentine's Day weekend.

Anyway, back to Safe Haven. It follows the typical Sparks formula for success: North Carolina coastal town, really good-lookin' guy, really good-lookin' girl, tragedy, heartache, danger, misunderstanding… love, hope and faith. Yadda yadda. But I wasn't really digging the chemistry between the two leads, Julianne Hough (Dancing with the Stars, Footloose) and Josh Duhamel (Transformers, Life As We Know It) – and the narrative thread in this one is simply frayed beyond repair.
Here's the gist: a young woman (Hough) with a mysterious past involving domestic violence hops on a bus heading south in search of a fresh start. She lands in a small North Carolina town where she meets a cute widower (Duhamel) and his two young kids. Love blossoms, but danger lurks in the form of a rogue cop from Boston. Safe Haven is billed as a 'romantic thriller' and while it does have a few rare moments of unpredictability – it fails to gain or sustain any real momentum in the romantic or thriller department.
I like the casting of Duhamel as a leading man in romantic dramas and comedies, but this movie sort of falls apart around him. And Hough is simply a much stronger presence when she's dancing the cha-cha for Len and the gang as opposed to (over)acting on the big screen.
In other words, don't expect The Notebook or even Dear John. Or heaven help me, The Last Song. Safe Haven should seek shelter as a 'woman in jeopardy' TV movie for Lifetime. Chances are, I'd give it a much more favorable review – and still have money left over for a giant box of chocolates.
No Comments Yet
You can be the first to comment!
Leave a comment