Director Cristian Mungiu's film Beyond the Hills takes place in a remote monastery in Romania, where two young women who grew up together in an orphanage are reunited with tragic results. The screenplay is adapted from the non-fiction novels of Tatiana Niculescu Bran, which were based on actual events. It's one of those films where you can feel right away that something is wrong, but you can't quite put your finger on it. The two lead actresses Cosmina Stratan (Voichita) and Cristina Flutur (Alina) shared the best actress award at Cannes and are outstanding as they bring this quietly riveting story to life.
Voichita has decided to dedicate herself to God, and her life in the austere Eastern Orthodox monastery is proscribed, but it has given her a calling and a family. Alina arrives by train from Germany and her first act is to hug Voichita so long that it makes her uncomfortable. Later, when they are alone at the monastery, it is clear their relationship was once more than close, and Alina sets out to persuade Voichita to come away with her. But Voichita's ambivalence about leaving throws Alina into such a state that she has to be tied up and taken to the hospital, where they drug her, but send her back to the monastery to rest and recover. The monastery is overseen by Father, who has strict rules for the nuns and looks at Alina as an interloper in their peaceful and holy existence. But Voichita and the Mother Superior prevail upon him to let Alina stay, hoping that they can help her to heal, both body and soul. And she does try to heal, but there is definitely something wrong with her.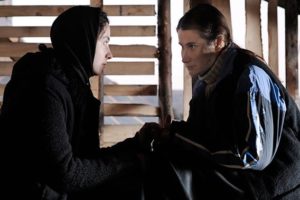 Alina is a very sick young woman, both physically and mental and we slowing learn about her past having grown up in the orphanage, protecting Voichita from sexual predators, and being exploited by people her whole life, including her foster parents. But despite (or because of?) all the spiritual help, she flips out again and tries to burn down the place, and instead of taking her back to the hospital, the nuns tie her up again and eventually Father agrees she may be cured by an exorcism. Don't expect a Linda Blair head-spinning scene here. It is a simple reading of scripture over and over in hopes of a miracle. And it does have its effect, but not what was intended.
Beyond the Hills is a tragic tale of love and faith, beautifully shot with great performances. It is slow and deliberately paced, and unfolds in an onion peeling fashion, revealing layer after layer of these two young women's sad history. I would not recommend it for Mainstream Chick. And it clocks in at 2 1/2 hours, but I would recommend it for those who appreciated Mungio's earlier film 4 Months, 3 Weeks and 2 Days. It displays the same love of character and deep understanding of emotional landscape.
No Comments Yet
You can be the first to comment!
Leave a comment