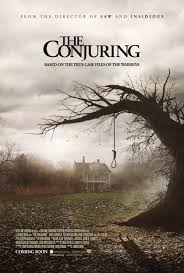 Okay, kids. Gather around the campfire and settle in for a treat. No campfire? Then the movie theater should do. Oh, The Conjuring is rated 'R'?! That's kind of ridiculous. I'd rather let the (older) kids pick this movie over a PG-13 offering like Grown Ups 2. Let's call it PG-15. There's no sex, gratuitous or graphic violence, or foul language. Just good ol' fashioned suspense, creepiness, and scare tactics – elevated by some fine acting. It's definitely too scary for the wee ones and the faint of heart (of any age), but fans of the traditional, touchstone horror movies (Amityville Horror, Psycho, The Exorcist, Poltergeist, etc.) will likely find The Conjuring to be among the best the genre has had to offer in recent years. And that's coming from someone who doesn't particularly like horror movies.

The Conjuring is based on the true case files of the renowned husband-and-wife team of paranormal investigators, Ed and Lorraine Warren. The talented and versatile Patrick Wilson and Vera Farmiga are so appealing in their portrayal of the Warrens that even skeptics like me could appreciate the couple's passion and commitment.
The story revolves around a large, loving family that moves into a secluded farmhouse in 1971, only to discover they are not alone. A dark presence of some sort begins terrorizing the family – Roger and Carolyn Perron (Ron Livingston, Lili Taylor) and their five daughters (Joey King, Shanley Caswell, Haley McFarland, Mackenzie Foy and Kyla Deaver). I won't reveal how exactly (the trailers offer a hint). But rest assured, it's creepy stuff, with lots of ominous music cues that will keep you glued to the edge of your seat – when you're not jumping out of it.
The Perrons seek out the Warrens' help to identify, confront, and banish whatever evil force is threatening their physical and emotional wellbeing. The case proves a lot tougher – and far scarier- than usual for the Warrens, who have become rather accustomed to dealing with demonic spirits.
Believe it – or not – The Conjuring will still manage to weird you out. In a (mostly) good way.
Now go to bed.