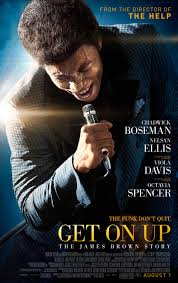 Get On Up is on par with the recent Frankie Valli biopic, Jersey Boys, and the bottom line is the same: if you like the music, it's worth checking out the movie. The film traces the life of the 'Godfather of Soul' James Brown, from extreme poverty in the deep South to musical stardom around the country and across the globe.

Chadwick Boseman (42) does a great job capturing Brown's signature moves and shrieks ("I feel good!'). But I was distracted by two things in particular: he often looked a lot like a young Isaiah Washington (ER) and sounded a lot like Chris Rock. (If you see the movie, please, let me know if you agree/disagree!)
The narrative itself feels a bit too familiar, like something we've seen before in a slew of other biopics about musicians who overcame tremendous obstacles to reach the pinnacle of success, while alienating lots of other people (including band-mates, wives and children) and having various run-ins with the law. And I didn't particularly like the way director Tate Taylor (The Help) occasionally had the James Brown character address the camera, or the way the chronology bounced all over the place – from the 1990s, to the 1970s, to the 1930s, etc. Yet there's no doubt that Brown had quite the influence on the music scene for quite a few decades, and his rhythms are certainly infectious throughout the movie. It runs a bit too long and has – pardon the pun – a few too many repetitive beats, but it's propped up by a strong supporting cast that includes Viola Davis, Octavia Spencer, Nelsan Ellis, Lennie James, Tika Sumpter, Jill Scott and Dan Aykroyd (though they don't have all that much to do, except for Ellis as musician/friend Bobby Byrd).
So… if you're in the mood for a bit of soul, funk and R&B and want to learn more about the unique character also known as the 'hardest working man in show business', then "Please Please Please", Get On Up and go. If you don't care that "Papa's Got a Brand New Bag", is a "Sex Machine" in a "Man's Man's Man's World", and you don't "Feel Good" about going, then don't. If the movie is true to the man, then I suspect the late James Brown would be perfectly okay with that advice.
No Comments Yet
You can be the first to comment!
Leave a comment