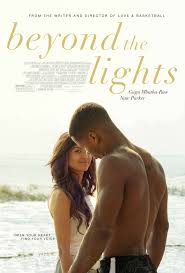 Beyond the Lights is somewhat reminiscent of the classic Whitney Houston/Kevin Costner romantic drama The Bodyguard. It doesn't reach the same heights in terms of story and tension (and Houston high notes), but it still makes for a solid chick flick, largely due to the performances of Gugu Mbatha-Raw, Nate Parker and Minnie Driver. Cool soundtrack too.

Mbtaha-Raw (a rising star to keep tabs on) plays Noni, a Rihanna-esque superstar who's lost her true self in the type of music, and the sexpot image, that others have thrust upon her – including her micro-managing stage mom (Driver). The pressures of fame are about to do her in when she meets Kaz Nicol (Parker), a young cop and aspiring politician who – quite literally – saves her, heart and soul. The two fall hard for each other, but come from different worlds. You know the drill.
The movie focuses on Noni and Kaz's efforts to reconcile their personal lives and career ambitions in the face of various obstacles.
Beyond the Lights is rather risqué for its 'PG-13' rating. Some of the more 'adult situations' definitely skewed 'R'. I suspect it'll be purified a bit for the 'airplane' version because this movie would make for a good time-killer on a long flight. If you don't catch it in the theater, consider renting it down the road, especially if the trailer below piques your interest.