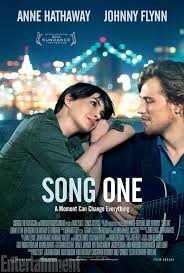 Song One feels like one of those low-budget indie flicks that a bunch of college friends got together to shoot in the middle of the night, with the theater class's star pupil lending her talents to the endeavor. The narrative is (more than) a bit contrived, but you can't help but root for the film and its characters. Song One is a romantic drama set against the backdrop of Brooklyn's indie music scene, so it's sort of like a less gritty, more contemporary Inside Llewyn Davis with a chick-flickier edge.

Oscar-winning actress Anne Hathaway co-produces, and stars as Franny, a young woman who's become estranged from her single mother (Mary Steenburgen) and brother Henry (Ben Rosenfield) while embarking on a PhD in anthropology. She's called home to New York after Henry, an aspiring musician, gets into an accident that lands him in a coma. Franny, feeling guilty about not really understanding her brother's musical passions, embarks on a journey to see what he sees, and hear what he hears on a daily basis… and to bring those sights and sounds back to his hospital room. It helps that she's found his journal, a song he wrote, and a ticket to see his favorite musician James Forester (actor-musician Johnny Flynn). Franny manages to meet Forester after the show, and the two develop a quiet friendship that quickly blossoms into a romantic relationship.
Song One is opening simultaneously in theaters and on demand, probably a wise move. It's not really 'big' enough for the big screen, but it's short and sweet with a talented cast and a solid soundtrack.