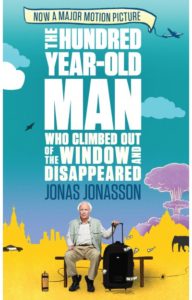 Adapted from the best-selling novel by Jonas Jonasson, which I thoroughly enjoyed, The 100-Year-Old Man Who Climbed Out the Window and Disappeared is a fun little Swedish flick about an old man who, just before his nursing home keepers can sing him happy 100th, climbs out the window and has a big adventure. It is in Swedish, feels kind of Forrest Gumpish, and it involves a biker gang and an elephant.
The 100-year-old is Allan Karlsson who has always loved to blow things up, which has taken him all over the world and into the orbit of some extremely influential people, from Franco to Stalin to Truman to Robert Oppenheimer to Reagan. It is also that love of explosions that has landed him in the home after blowing up a fox that killed his beloved cat. But Allan isn't waiting around to eat his cake, instead he escapes and catches a bus to the only place he can afford with the change in his pocket. A biker asks him to look after a suitcase at the bus station, and Allan takes it with him when his bus comes. And so begins the adventure.
Turns out the suitcase has LOTS of money in it and the biker's gang is soon in hot pursuit. Allan meets a guy who lives in a shut down train station, and before long they are running from the gang, with a policeman two steps behind also looking for what he thinks is a dotty old man. And along the way as the bodies pile up (it isn't bloody,) they're joined by a young man who's a career student, a woman who rescued an elephant from a circus, and the elephant. Allan's incredible life story is told in flashbacks woven throughout the adventure.
The 100-Year-Old Man Who Climbed Out the Window and Disappeared is an entertaining tale, and it moves along very quickly. It isn't laugh out loud funny, but it is a fun semi-dark comedy. I think I liked the book better just for its more whimsical tone. Apparently, the actor playing Allan (Robert Gustafsson) is a huge comedic star in Sweden and it was the top grossing movie there (in 2013.) The heavy prosthetics he has to wear are distracting at first, but you get used to it. I'd recommend it for a matinee with the folks or a non-taxing rental when it comes to Netflix. It's not a must see, but it is one of those nice "little" films (with subtitles) to watch when you're not up for the latest blockbuster. And it has an elephant. (I highly recommend the book though.)