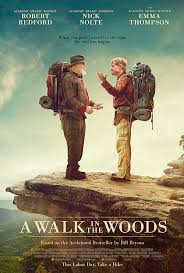 Here's what I liked about the adventure-comedy-drama A Walk in the Woods: Robert Redford and Nick Nolte; some really funny and smart one-liners; the notion that you're never too old for new adventures; and lots of pretty scenery.
Here's what I didn't like about A Walk in the Woods: It's a long walk, with too few 'mile-marker moments'.
Redford and Nolte have an easy, watchable curmudgeonly camaraderie, but the pattern of hiking/resting/shenanigans, more hiking/resting/shenanigans gets a bit old as the miles stretch out across the wide expanse of land. I actually had the same issue last year with Wild (the solo trail-blazin' flick with Reese Witherspoon), and Tracks (with Mia Wasikowska traipsing across the Australian desert). Both of those movies had many redeeming qualities and great scenery, but the trudgery became drudgery as I counted down the miles trekked, and contemplated the number of miles still left to go. Sooooooo many miles.
A Walk in the Woods is based on the 1998 book by Bill Bryson who, after two decades living in England, sought to rediscover America – and a sense of peace and tranquility – by walking the Appalachian Trail that stretches from Georgia to Maine. The movie isn't so much about the walk, however, as it is about friendship. The trail is the stage for Bryson (Redford) to reconnect with a long-lost and former friend named Steve Katz (Nolte), an out-of-shape philanderer who pretty much invites himself along for the adventure that none of Bryson's other 'friends' are willing to subject themselves to. (I can relate to that. The older I get, the more I appreciate private bathrooms, a comfortable bed, and XM radio.)
A Walk in the Woods is a bit disappointing overall but serves as an excellent reminder of what it's like to hit the road with friends… why some friends make better traveling companions than others… and the importance of seizing the day, and embracing the journey as much as the destination. I still have no desire to walk the AT. But I am ready for the next adventure! Who's with me?!