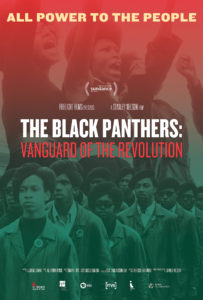 The Black Panthers: Vanguard of the Revolution tells the heartbreaking history of the rise and fall of The Black Panther Party for Self-Defense. I saw it earlier this year at a festival, and it was without a doubt one of the best films I saw there. An incredibly important and fascinating story, extremely well told and sadly, so much of it feels decidedly déjà vu. It really is a must see documentary.
From its beginnings in the 60s as a reaction to the police targeting black men for walking while black (among a long list of other benign actions), and the larger system keeping their communities poor and undereducated, and as a part of the larger youth movement that brought revolutionary ideas to the streets, the Party became an amazingly powerful national organization for black empowerment. The film weaves together the history through archival footage and interviews with surviving Panthers, their supporters and some of their detractors. It shows just how scared the establishment was of this uprising and how far J. Edgar Hoover and his FBI CoIntelPro program went to infiltrate and undermine them, even (or perhaps especially) when in those early days they were using their organizing efforts to feed and educate their communities.
The film doesn't gloss over their radical and at times violent agenda, but it shows that in the context of the times, their talk of fighting for their lives wasn't just rhetoric. It also points to problems many organizations face, the egos of their leaders. Perhaps the most charismatic and best strategist they had was Fred Hampton, who was assassinated in his bed by the police. The Black Panthers: Vanguard of the Revolution chronicles the Panther's story from its founding in Oakland in the 60s through its leadership infighting and eventual disintegration in the early 80s. More than anything I came away from it wishing that another organization with the energy and reach could bring together the black community today to finish the fight. It is a film well worth seeing and I truly hope that a lot of people see it and are inspired to act, again.
No Comments Yet
You can be the first to comment!
Leave a comment