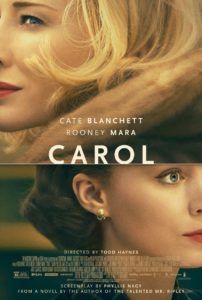 The film Carol is gorgeous.The clothes, the sets, the cinematography. And the actresses – Cate Blanchett and Rooney Mara – are both fabulous in this 1950s era forbidden love drama directed by Todd Haynes (Far From Heaven) and adapted from a Patricia Highsmith (The Talented Mr. Ripley) novel. It is a lesbian love story told more through furtive, adoring glances and unspoken understandings than big dramatic moments. It is languid storytelling, but somehow it is effective.
Carol (Blanchett) is the older woman here, unhappily married and on the road to divorce. She's had a lesbian affair that her husband knows about, though that is over. But when she goes Christmas shopping for a present for her daughter, she meets shop girl Therese (Mara), and there is an immediate mutual attraction. Leaving behind her gloves, Carol creates an opening for the two to connect, and Terese, who has a boyfriend, finds herself unable to stop what is in motion. When Carol's husband takes her daughter away, using a morals clause to punish her for not being the woman he thought he married, Carol and Therese take their relationship on a road trip, where it deepens. But the reality of losing her child forces Carol to make a heartbreaking choice.
Carol is not an in your face lesbian drama. I don't think the word is even spoken in the film. Of course those were the days before such things were talked about. But wouldn't Terese and Carol have talked about their relationship? They don't really talk about much of anything. It's strangely lacking in substantive dialogue. This film has so much going for it, but I'm not sure it adds up to the sum of its parts. As I said, it is effective, though not terribly dramatic or particularly romantic. Having said that, I'd still recommend it for the performances and its amazing sense of time and place.