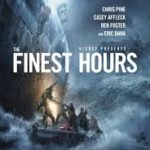 The Finest Hours is a fine but forgettable flick that doesn't quite rise up to the level of what I've come to expect from a Disney movie based on a true story. It's no Miracle (on Ice), Secretariat, Rise of the Titans, Million Dollar Arm, etc. Perhaps Disney needs the sports theme to hit it out of the park. This one's more like a solid base hit. I didn't feel the heartwarming or emotional pull that sucked me into the narrative of the aforementioned films, or even the non-sports-themed Saving Mr. Banks (the movie with Tom Hanks and Emma Thompson on the making of Mary Poppins). That one at least had some comedic edge to it. The Finest Hours has a compelling story at its core — and a few almost-nailbiting scenes — but overall, it wasn't the lump in your throat, stand up and cheer, feel-good movie I was hoping for.
The Finest Hours is billed as a movie about "the greatest small boat rescue in Coast Guard history." I initially thought that meant it was going to be about the Coast Guard going out to rescue some small boat caught in a blizzard. But the 'small boat' actually refers to the Coast Guard rescue boat. It's a tiny little thing — with a four-man crew — heading out to rescue 30 sailers from a giant oil tanker that split in half during a massive storm off the coast of Cape Cod in 1952.
Chris Pine (Star Trek, Into the Woods, This Means War) plays Coast Guard Captain Bernie Webber, who initially comes off as a dim but dedicated first responder at sea. When his boss (played by Eric Bana, who has very little to do in this movie) orders him to assemble a team for what many consider a suicide mission he doesn't bat an eye. But his new fiancé Miriam (played by Holliday Grainger) sure does. She wants the mission called off. That doesn't happen.
The Finest Hours tries to be both a simple love story and an action-fueled daring rescue at sea movie. Both parts suffer from a lack of cohesiveness. There's also a third thread of sorts surrounding the story of Ray (Casey Affleck), the senior officer on board the sinking stern of the tanker. He has to rally the troops — many of whom don't like him very much — to work together to stay afloat until help arrives. Affleck is very good, and just as much a hero in this tale as Pine's character Bernie. Affleck's New England accent also comes off as way more authentic than his fellow actors'. At least to my untrained ear!
The saving grace of these films is that I do learn something new and interesting about real-life adventures and heroes (and see the updates and photos in the end credits). So it's not a total bust. And fans of Chris Pine or Coast Guard/rescue movies (like 2006's The Guardian with Ashton Kutcher and Kevin Costner) may want to check it out. But I wouldn't rush out to see it — and I definitely wouldn't recommend spending the money to see it in 3D. The 3D effects did not add anything of note to the visual experience.
Ultimately, The Finest Hours is on par with In the Heart of the Sea , a boating disaster movie that came out last month and failed to make a splash at the box office despite ITS sexy star, Chris Hemsworth. So maybe Hollywood needs to keep the boat movies in dry dock for a while.