Without doubt, The Lobster is one of the most unconventional love stories I've seen. The film stars Colin Farrell as David, a recently dumped man in an alternate world where single people are not tolerated. So he must check into a somewhat creepy hotel where he has 45 days to find a new love or be turned into the animal of his choice. Yes, he chooses a lobster.
At this hotel, there are regimented activities for the singles and they can extend their stays by capturing (by way of tranquilizer dart guns) one of the group of escaped singletons living in the woods, known as Loners. Couples tend to bond over shared traits, like having nosebleeds. And as time runs out, David fakes love for a heartless woman, but when caught in that lie, he escapes and joins the Loners in the woods. Sadly, they are just as regimented and love is strictly verboten.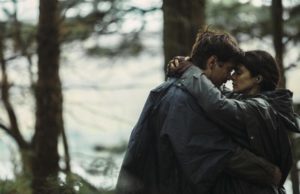 So of course he meets a woman (Rachel Weisz) there with whom he forms a strong connection over their shared near-sightedness. But they have to hide their relationship, inventing a system of hand signals to communicate. And the question becomes, will love win the day?
The Lobster is an absurdist statement about relationships in the time of eHarmony and The Bachelor. Who could really be sure it's love in 45 days? The film captures that trapped feeling of societal pressure to fit in and our base instinct to find love when and where it arises. Colin Farrell is wonderful (potbelly and all) as the main character who sees the absurdity of it all and is ultimately willing to buck the system. And Rachel Weisz, who narrates the film long before we meet her, is the perfect woman for him. She's unlike any of the others – warm and open and willing to be his partner in love crime. The film has the same feeling as Charlie Kaufman's Eternal Sunshine of the Spotless Mind, extremely off-kilter and totally original. It is a great surreal alternative to the usual summer blockbusters. I thoroughly enjoyed it.