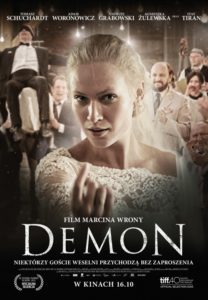 Demon is a strange little Polish horror flick that mostly takes place during what I'd call a blow-out wedding. Handsome young couple Peter (Itay Tiran) and Zaneta (Agnieszka Zulewska) have been given a house in the country that they're planning to rehab. Prior to the wedding Peter begins some of the work, digging up the yard where they will be building a summer house and/or a swimming pool. But when he hits something and discovers bones, everything changes.
Spending the night alone in the house, Peter sees some strange things, but isn't sure what he's seeing. And the following morning there is no hole in the ground, and no one believes him when he talks about the bones. So he shrugs it off and the wedding goes ahead, but during the vodka-drenched reception in the barn on the property, Peter starts to act odd. He keeps seeing a woman who isn't there. And before long, people are worried about him. He calls his wife by another woman's name. Then he has a seizure and starts speaking a language that at first seems like German, but proves to be Yiddish. And an old Jewish professor is brought in to talk to him and realizes that Peter has been possessed by the spirit of a woman he loved decades ago who disappeared.
Demon is a beautifully shot retelling of the Jewish myth of the dybbuk. It is given another layer in the story when the old man talks about how the Jewish presence in the town has been wiped away, making it hard for the ghost to find what she is looking for. And it also seems that some of the Polish wedding guests know more about the family that had lived there (and the bones) than they want to admit. This is a quiet horror film, no blood and guts, just creepy, psychological horror. And it is very effective. So for those of you who like horror and are not afraid of subtitles, it is a worthy addition to the genre.
Sad IMDB trivia: Director Marcin Wrona committed suicide in his hotel room on September 19, 2015, during Gdynia Polish Film Festival, where Demon was shown in competition.