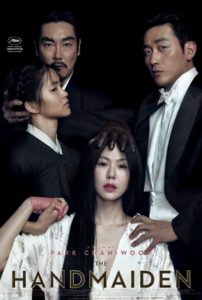 Korean director Chan-wook Park's (Oldboy) latest film The Handmaiden is an amazing adult thriller. It is twisty and erotic and romantic and funny and utterly surprising. And very hard to review because the many plot twists that make it so fun to watch have to be kept secret. No spoilers here. It is reminiscent of The Grifters or Sleuth with people trying to con one another from start to finish, and the audience's assumptions proved wrong again and again. At its center is the story of a con artist The Count (Ha Jung-woo) who finds a job for one of his minions, pretty young Sookee (Tae-ri Kim), as the handmaid to a very rich and very attractive young Japanese woman Lady Hidekowith (Min-hee Kim) with the aim of his seducing and marrying her for her fortune. But needless to say, it doesn't go exactly as planned.
The film was "inspired" by British author Sarah Waters's Victorian crime novel Fingersmith, but Park did a lot of tweaking to make this his own. It takes place in 1930s Japanese-occupied Korea, mostly in a large country house that is part Victorian mansion and part traditional Japanese dwelling. Lady Hidekowith lives on this beautiful estate under her Uncle's control. She may be rich, but she leads a very confining life, and her one outlet is reading to Uncle and his friends at night. When Sookee arrives, they become very close, but despite their intimate relationship Sookee pushes The Count's plan, encouraging Lady Hidekowith to marry him.
The story is told more than once, from different characters' perspectives, adding layer upon layer to the narrative. While it is an incredible con vs con movie, the director adds depth to it by including the politics of the Japanese occupation, women's roles in the society of the time, erotica lit, and lesbianism. And that's not all. This is an amazing film, and I highly recommend it to adult audiences, especially those who love Korean flicks and beautifully shot, top-notch film making.